Purchase Package 2 or get both & save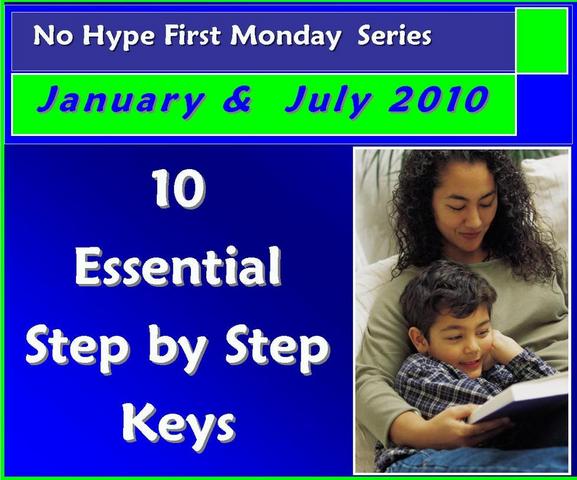 10 Essential Step by Step Keys to Effective Client Attraction


Looking to save time, money and frustrating overwhelm in making your marketing really work?
Tired of insurance hassles and eager to generate more self-pay clients? This tele-training is for you if:

• If you are a sequential thinker,
• If you like knowing the best things to do in the most efficient order,
• If you are just starting a private practice,
• or if you have and it's not yet taking off,
• If your marketing approach is scattered, unfocused, or lacking follow-through,
• If you want a specific, proven blueprint for what to do,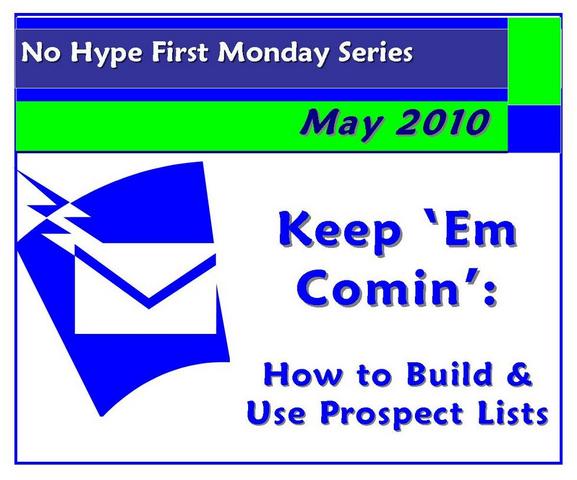 How to Build and Use Your Email Prospects List


One of the most frustrating things about being a counselor or coach is the need to constantly acquire new clients. After spending so much time and money on learning the art and science of counseling or the theories and process of coaching, it's disheartening to find yourself spending so much time on chasing people down and trying to sell them on your services.



WHAT IF

you had an easier way to keep your pipeline filled with people who are predisposed to want to hire you because you've already created rapport with them and have already established yourself as the specialist they need?

WHAT IF

there was a system you could set up that would do much of the work for you?

• If Facebook and Twitter are getting you nowhere,
• If you can't force yourself to one more networking breakfast,
• If you are exhausting yourself chasing one client at a time,
• If schlepping to doctors offices trying to get referrals isn't working,
• If you have lots of knowledge but aren't sure how to let others know about it,
• If you want to automate your client attraction efforts as much as possible,
• This tele-training is for you.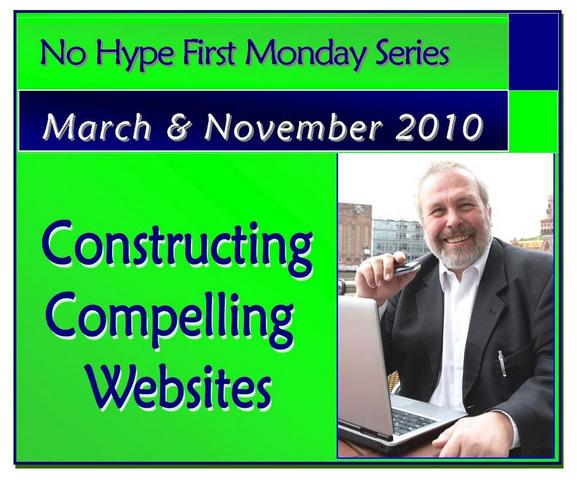 Constructing Compelling Websites


For private practice owners, a website is the essential core of your marketing efforts. It is the first thing you need, and the one thing you can't do without, even if you're an extrovert. But for introverts, a compelling, ideal client-focused website can bring in 50% or more of your business. They don't have to be elaborate or take tons of money to do, if you have average computer skills.

• If you don't yet have a website and didn't think you needed one,
• If you want to create your own website but feel intimidated,
• If writing is not your strength,
• If you have no idea what message should be on your website,
• Or, what you currently have isn't attracting clients,
• If you're confused about selecting a webhost & domain name,
• This tele-training is for you.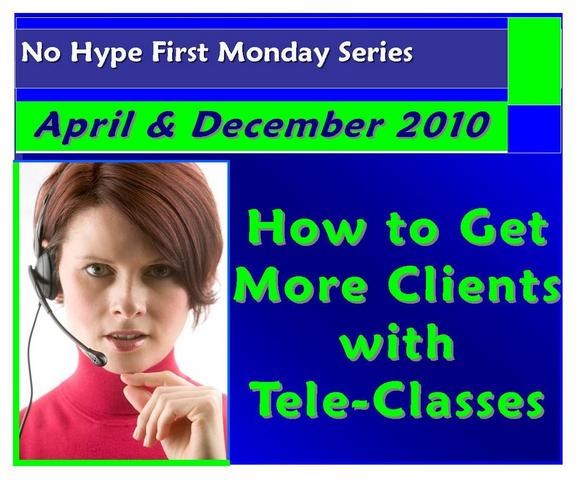 Get More Clients with Tele-Classes


Marketing for a counseling, coaching or ND practice is too often done as a game of talking to one person at a time, explaining your service, and trying to comfortably make a convincing case for why the listener should pay you. What if there was an easier and more time efficient way to reach your ideal target market by speaking to 5-100 people at a time, giving them an experience of you at no or low cost, in a way that builds relationships and shares information without being pushy or cheesy? If that idea appeals to you, incorporating a teleclass strategy into your marketing mix could be a great move for you.

You'll want this audio if :
~ you are exhausting yourself chasing one client at a time and you want to leverage efforts & extend reach,
~ you are curious about turning talking skills into teaching mastery
~ you are thinking about funneling more prospects into your pipeline,
~ you want to develop an alternative source of income,
~ you're confused about conference call vendors and recordings,
~ you want techniques proven to hold an unseen audience,
~ you need to know how to structure your content in the most high-value manner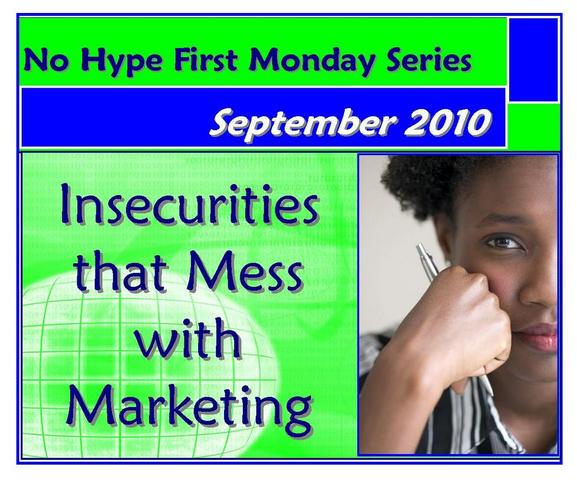 4 Insecurities and How They Sabotage Your Business


Long standing and new insecurities can be an energy leak for self-employed therapists. Subtle and overt worries covertly rob you of the right internal conditions for helping your business thrive. Identifying the type of insecurities you have shows whether your marketing efforts are or will be challenged by personal emotional obstacles. With this knowledge, your action steps for your own client attraction marketing will be more magnetic, and better reflective of your gifts and personality. With this tele-training you'll


~ discover the 4 realms of insecurities that are obstacles to private practice success
~ identify which ones are most problematic for you
~ share your experience and hear about others'
~ and get some business coaching on feeling insecure and marketing anyway.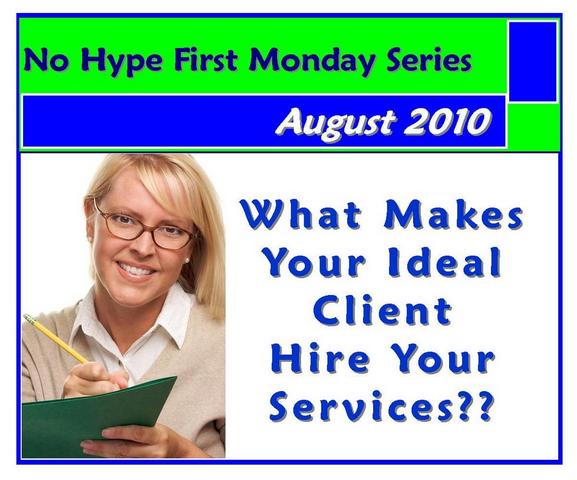 When Preparation Meets Readiness to Hire


You've got your ideal client defined. Your website is up. You're giving a well honed signature talk around town. You've tapped good referral sources. But clients aren't flooding your schedule. What's missing?

You've probably heard that clients make hiring decisions based on how much pain and suffering they feel, or how desperately they want to solve a problem. You've probably heard that you need to talk to their emotional 5-year-old to connect with their perception of wanting something different. Assuming that you have a compelling marketing message that is clearly and continuously put before a viable target market niche, what may be missing is your prospective clients' readiness for your services. This tele-training:

~ identifies what to offer people who are thinking of maybe wanting a change,
~ tells you why give-aways are enticing for people getting ready to change,
~ discusses how to pitch your services for people who are actually ready to take action for change
~ tells why you don't need to bother with the rest.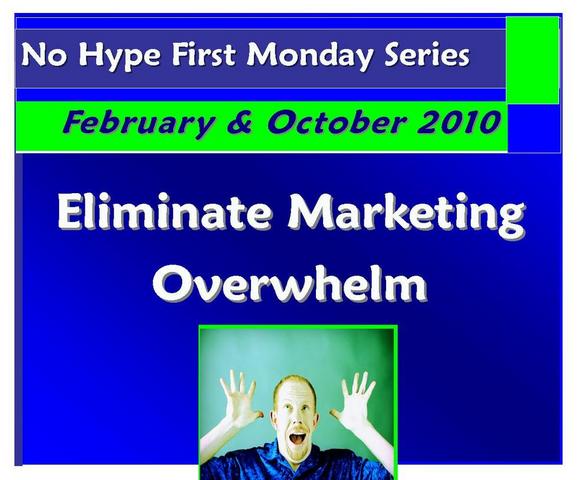 3 Strategic Shortcuts to Eliminate Marketing Overwhelm

Getting pulled in a dozen different directions from listening to too many micro-business gurus?
Need to have an easy, quick, efficient action plan you can update as needed? Wanting to save time, money and hassle? This tele-training is for you if:

~ you are feeling in a fog about how to market your new private practice
~ you don't know how to strategize efficiently
~ you multi-task incessantly and get little actually done
~
too many competing priorities take your time and attention
~ you get paralyzed by seeking perfection or mired in insecurities
~ your business is stalled, waiting for you to figure out how to market it
only $23

for
Immediate Download Access
Get both for
just

$37

and save!

only $23

for Package 1
Immediate Download Access

Get More Clients with Tele-Classes

Constucting Compelling Websites

Build Your Email Prospects List

10 Essential Step by Step Keys
to Effective Client Attraction




3 Strategic Shortcuts to
Eliminate Marketing Overwhelm

Biggest Marketing Mistakes

What Makes Your Ideal Client Hire You

4 Types of Insecurities and
How They Sabotage Your Business




If you missed any of the
first Monday No Hype tele-trainings for 2010
you can now purchase the audio recordings
in two convenient packages
complete with the follow-along worksheets

Tele-Trainings in 2011 may be
made available after March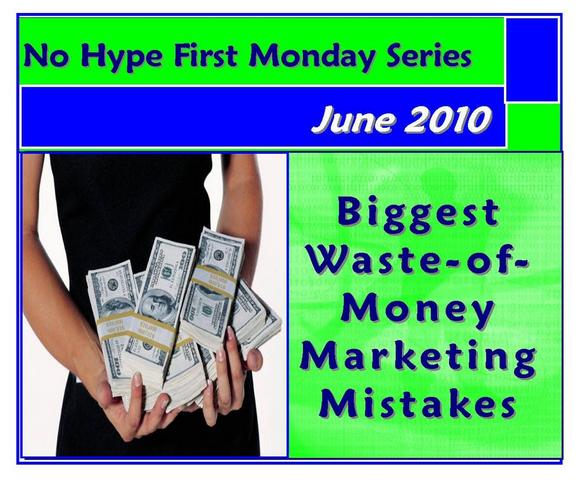 Biggest Marketing Mistakes

Looking for marketing ideas that will save you hundreds, even thousands of dollars? Want to reduce frustration, time, and regret from buying services and tools you don't need or can't use?

Whether you're just starting out, or shifting from agency work to private practice, you probably have little if any marketing budget. That makes you leery of investing in your business and risk-averse for spending money when you can't see it coming back in by the end of the month. Plus you just don't have time to research all the options. This tele-training names what to want, and what to avoid.
Click on the little arrow to hear a few minutes of this tele-training
Click on the little arrow to hear a few minutes of this tele-training
Click on the little arrow to hear a few minutes of this tele-training
Click on the little arrow to hear a few minutes of this tele-training
Click on the little arrow to hear a few minutes of this tele-training